Charcoal Mask that you can make yourself.
Making a charcoal facial mask for skin care might not be something you have ever thought of doing,  but the results can be so worth it. You do not have to stay to only using it on your face, you can use this mask on any of your skin.
Activated charcoal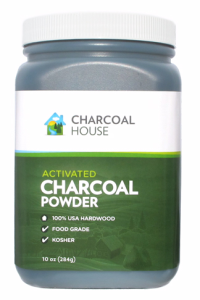 adbsorbs many times it's own weight in impurities, because of this it is a great all natural way to deep clean your skin, leaving it feeling and looking great. A charcoal facial mask can be purifying to skin, drawing out toxins, so for many it can bring relief for skin issues that plague them.
The possible benefits you can get from using a charcoal facial mask in your skin care routine is positive effects on chronic skin issues, dry skin, oily skin, breakouts, blackheads, whiteheads, acne, hives, rashes, boils, skin abscesses, scars and even bites and stings and more.
You can easily make your own DIY facial mask within minutes.
Hi I am Cheree of Natural & Frugal: Raising 6 kids, and I am here today to tell you about one of my favorite face masks that I make myself using Charcoal House Hardwood Activated Charcoal Powder.
I always love the results on my skin and every time I do the charcoal mask I remember why it is one of the best things I do for my skin, my face looks and feels amazing after and the feeling lasts.
Simple charcoal facial mask recipe:
1 1/2 tbsp of activated charcoal powder
1 1/2 tsp of water (more or less)
Directions:
Step 1: Add the charcoal to a bowl or cup & slowly add the water until the charcoal and water is to consistency of pudding you may need to add more or less than the 1 and a 1/2 tsp of water.
Step 2: I like to apply a thin layer of oil on my face (like coconut oil), then using my fingers apply the mask evenly, I like my mask to be kind of think. -You can use water to wet face first instead of oil if you prefer and if you do not want to use your fingers you can use a cotton ball or cotton round.-
Step 3: Let sit 10 minutes to 30 minutes, some prefer to leave it on over an hour misting mask with water to keep it from drying and cracking.
Step 4: When you are ready wash face with warm water getting as much of the charcoal mask off as you can. Next use a baking soda and warm water paste to wash skin to remove excess charcoal and black color.
Step 5: Follow with another oil to lock in moisture.
Other: Wash hands while mask is drying with baking soda and warm water, you will find baking soda gets the charcoal off skin rather well. I like to do the mask before I shower so I can wash it off with less mess in the shower.
Options:
You can add several of these to the mask if you want, just adjust water accordingly, you might want to add less charcoal if you add more dry ingredients, and follow directions above.
You can use the Detox 1600 charcoal powder instead of the hardwood
(Referral links below)
Make sure you protect clothing or counters because charcoal is black, if you do get it on anything try using warm water, baking soda and dish soap in a scrubbing paste to get it out, you can also add baking soda to your laundry load.
I have teen daughters and they love using this mask as much as I do, leaves skin feeling fresh, firm, soft, glowing and feeling revived, even the next few day you feel the amazing results. You can do this mask as often as you feel it is needed, a couple times a month, once a week, twice a week or daily.
In the next few weeks I will come back and share how to make a charcoal body scrub, so stay tuned.
Make sure to click to follow and get updates from the Charcoal Times Blog, and share with your friends.