We put our activated charcoal toothpaste to the test…
Due to the mis-information on the safety of activated charcoal toothpaste, and the claims that it can damage the enamel of your teeth, we decided to have our formula tested by an independent laboratory.
Watch the video below to see the exciting results!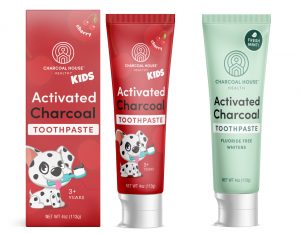 Get a clean you can see and feel with Charcoal House® Children's Natural Cherry flavor toothpaste. Our formula is fluoride-free and less abrasive than baking soda making it safe for most dental work. Our formula whitens and brightens teeth naturally and freshens breath on contact. With regular use, it gently removes stains and helps to polish teeth between cleanings. Simply apply a generous amount to your toothbrush and brush for 2 minutes, rinse until water runs clear and Smile On!
100% Made In USA.
Natural
Whitens
Polishes
Freshens Breath
Gluten-Free
No Fluoride
No GMO's
No Parabens
No Triclosan
No Cruelty
Click here to order now!
Or call to order: (308) 665-1566